As Europe grows, many want to grow with it; when it extends offers of support, many look to benefit.
EU-X designs, together with the client, effective cooperation projects with realistic goals and long-term results.
EU-X supports you from the application process to the final stages of the evaluation, from quality assurance to documentation.
EU-X offers a wide range of experience in both methods and concepts, as well as a European-wide network of contacts.
[column width="eight" place="first"][headline htype="h4″]Suzana Lange[/headline]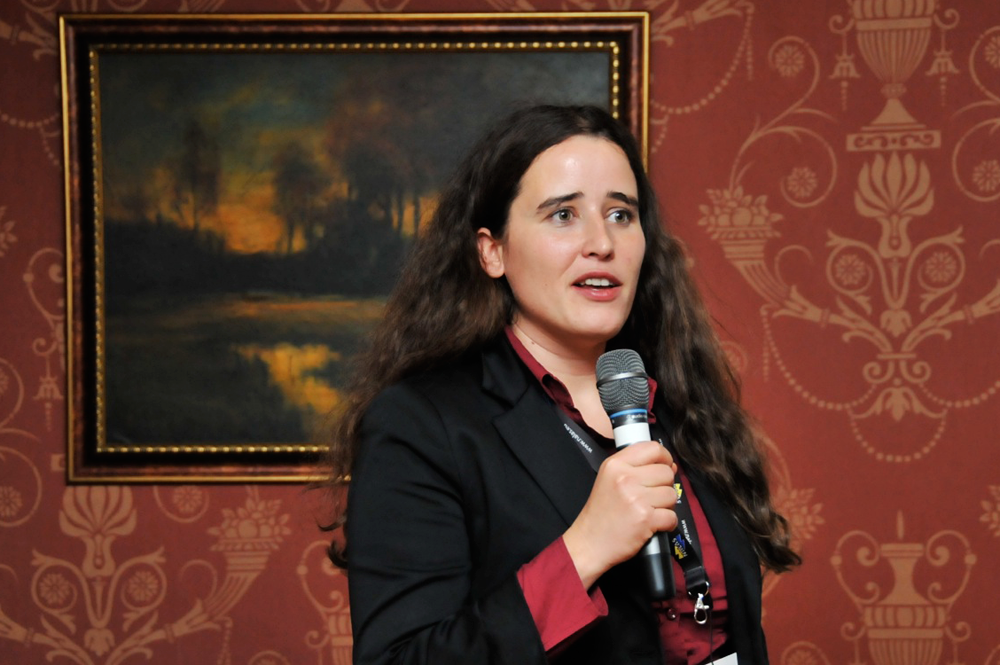 My expertise covers the following areas:


Profile
For over ten years, I have worked as an international political scientist within the framework of international cooperation.

Work Experience
Project management, programme management, event management, moderation and facilitation, training, consulting, project development, fundraising, documentation, monitoring, and evaluation.

Past employers
The European Commission, BMWi (Federal Ministry for Economic Affairs of Germany), GIZ (Gesellschaft für Internationale Zusammenarbeit), Moviemiento e.V., blue! advancing european projects GbR, Institut für Europäische Politik (Institute for European Politics)

Areas of expertise
Good governance, organisational development, environment, economy, youth, culture

Management models
Trained for GIZ Capacity WORKS – Management Model for Sustainable Development, and EU Project Cycle Management

Languages spoken
Native German, Fluency in English, French, and Croatian/Serbian/Bosnian, Basic knowledge of Russian and Macedonian

Regional Experience
Work visits in Germany, France, Belgium, West Balkans, Eastern Europe, South Caucasus, North Africa and the US.


EU-Integration, EU-Enlargement, and European Neighbourhood Policy
I have been a great supporter of the EU ever since my first student exchange, when I had the opportunity to travel and look beyond my own borders. The ease and normalness with which my colleagues were able to study and work abroad, contrasted to my administrative struggles (then as a non-EU citizen), made their situation all the more attractive.

These visits abroad made a positive impression on me, and were the harbinger of my German-French studies of political science, as well as the organisation of exchange programmess between EU neighbours.

Examples of projects include:
Coordination of an international student conference for the occasion of the Eastern enlargement of the EU on May 1, 2004;
Organisation of study trips for students from Berlin, Paris and Moscow to Institutions of Bilateral Cooperation in the respective countries;
Participation in and organisation of several pan-European travelling short film festivals, as a member of the Berlin-based association Moviemiento e.V..


Project management for consulting firms, government agencies and NGOs
I have made my passion for cross-cultural and political exchange, as well as tangible results, my profession. Since 2003, I have managed capacity development projects dealing with EU-Enlargement and European Neighbourhood Policy.

Examples of projects include:
Formulating and moderating Train-the-Trainer seminars in Central Eastern Europe on behalf of the Institute for European Politics;
Acquiring and managing European institution building (Twinning) projects of the Federal Environment Ministry on behalf of blue! advancing european projects;
Developing and coordinating the Sailing and Environmental film-festival, "Moving Baltic Sea", as part of the Berlin-based association Moviemiento e.V.


Programme management for EU-run programmes and bilateral cooperation
In order to broaden my perspective, I have moved on to include building institutions and networks at a programme level:
As GIZ Open Regional Fund Manager, I developed and implemented cross-border municipal development projects with different partners from South East Europe;
Within the German Federal Ministry for Economic Affairs, I was responsible for quality assurance and integration of the Twinning projects for the BMWi and its subordinate authorities;
For the European Commission, I coordinated the EU institution building instruments Twinning, TAIEX and SIGMA for the Eastern neighbours.


Quality assurance for European cooperation projects
Since 2013 in Germany, I have worked as a freelance consultant in International Cooperation.

In my consultancy assignments, I am in direct contact with projects and partners and thereby have direct reference to situations on the ground. Due to the heterogeneous nature of these jobs, I am faced with constantly changing partners and topics: something I find tremendously rewarding, both professionally and personally.

As a consultant, I have the opportunity, with sufficient distance and neutrality, to establish a qualified professional assessment and therefore support projects both in structure and content. Tangible results remain of central importance. I am particularly proud of the 'aha!' moments when ideas become reality, for example, looking at a group of engaged participants and remembering the first organisational meeting that heralded it.
Depending on the job, I work with a network of qualified colleagues who each bring their specific expertise, experience and additional skills to the project at hand. It is with this dynamic and value-oriented environment that I am able to make a difference.

[/column][column width="eight" place="last"][headline htype="h4″]EU-X services[/headline]



EU-X offers advice in each stage of the project:


Project Development and Fundraising
Project proposals are only successful when they meet the needs of the partners, as well as the objectives of the funding programme.

EU-X OFFERS…
EU-X supports public institutions, associations and companies in participatory project development and fundraising. Together with our clients and partners, we work to develop convincing project concepts with ambitious, but realistic, objectives.

Cooperative partnership projects are only worthwhile when they beget meaningful results for each party. EU-X supports project organisers in their search for complementary partners and relevant forms of cooperation.

EU-X has had extensive experience in reviewing project applications on behalf of the Erasmus+ and Twinning EU-funding programmes. This insider-experience positions EU-X as an expert advisor to potential applicants in their fundraising efforts.

EU-X ATTRIBUTES…
EU-X is familiar with the legal, administrative, and strategic framework of EU projects and programmes. Project organisers can therefore feel confident that all fundamental and relevant points are addressed; from the suitability of the project idea for the objectives of the program, to comprehensive budgeting of necessary cost items.

Projects often fall within very specific themes. The perspective of a neutral actor within a project, who is able to better identify overlapping themes and overarching goals, promotes clarity and impact-oriented project development.

EU-X brings a host of experience and knowledge to the project, as well as an extensive network of contacts within and outside the EU.

EU-X AND YOU…
Contact EU-X to develop meaningful projects and secure adequate funding for their successful implementation – or to identify the funding programme that best suits your project's aims.


Project Implementation and Capacity Building
Impact-driven project management allows the project team to be more flexible on a day-to-day basis when arranging and designing their project, but also comes with greater responsibility for the fulfilment of objectives.

EU-X OFFERS…
EU-X advises project organisers on the can-dos, should-dos, and no-gos for individual funding programmes in order to successfully implement and master a project. For a project, EU-X assumes responsibility of autonomous management; documentation and reporting; organisation and moderation of events; internal and external communication; and monitoring. As a result, administratively correct execution, and appropriate communication with all stakeholders, is ensured.

Above all, a project's objectives should always be kept in mind. Capacity building will therefore take place at all levels, and the project environment will be considered at every step. EU-X offers accompanying studies, training, organisation, and network consulting in addition to management services.

EU-X ATTRIBUTES…
EU-X performs these services in German, English, French and Croatian/Serbian/Bosnian.

EU-X works successfully with heterogeneous project teams across different institutional, professional and cultural backgrounds.

If necessary, a far-reaching network of partners in various organizations, and with varying expertise, can be called upon. Flexibility and fast learning also means that operations can be undertaken on short notice.

EU-X is qualified to implement various management models put forward by official bodies including GIZ Capacity WORKS and EU Project Cycle Management.

EU-X AND YOU…
Contact to drive your project to success.


Evaluation and Documentation
A professional evaluation and comprehensive documentation following the completion of a project are not only important for monitoring the achievement of objectives: they provide a sound structure for the entire learning experiences of various stakeholders, and raise the value of the project itself.

EU-X OFFERS…
Following a project, hindsight always affords the opportunity to assess what could have been done better. EU-X supports projects and programmes by capturing stakeholders' (learning) experiences and feeding them back into the development process.

Project results should not be filed and forgotten, but instead should be used and shared beyond the project team. Documentation, and analysis of transferability, guarantees the results' subsequent use following the project. During the project period, EU-X offers sustainability consulting with stakeholders.

A good project is defined by its effectiveness as a learning process for all those involved. A professional evaluation supports this process. EU-X carries out both concurrent and final project evaluations, which assess not only the achievement of goals, but also analyses the way in which they were achieved, thus ensuring knowledge and experience.

EU-X ATTRIBUTES…
EU-X creates an open atmosphere that promotes learning from strengths and weaknesses in dynamic formats.

EU-X has unique experience in applying concepts and different event formats that maximise peer-to-peer learning.

EU-X has examples of various evaluation and documentation formats, as well as multiple 'good practice' examples from past projects and experiences.

EU-X presents the findings in final reports, expert summaries and lectures according to the needs of the target audience and those of the project.

EU-X AND YOU…
Contact EU-X to ensure your project's long-term effect.[/column]